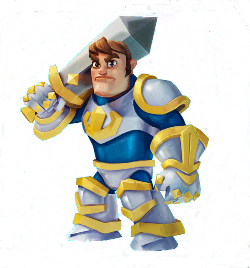 A powerful warrior skilled in close-range combat.
It's very similar to a Barbarian in Clash of clans, a rifleman in Boom Beach and a gunner in pocket fort.
It's weak but you can use loads at the same time.
Warrior is the most basic troop and is the first one available for training in the Barracks.
Offensive Strategy
Edit
Warriors are used commonly in most attacks generally as distractions for troops like Archers but they can also be particularly overwhelming in large numbers. These troops are also reasonably effective in gaining profits as they are relatively cheap to train.
they work best when spread out.
Specific Information
Edit
| Preferred Target | Attack Type | Housing Space | Training Time | Movement Type | Movement Speed | Barracks Level Required |
| --- | --- | --- | --- | --- | --- | --- |
| All | Melee (Ground Only) | 1 | 18 seconds | Ground | 6 | 1 |
| Level | Damage  | Hitpoints | Training Cost  | Research Cost  | Armory Level Required | Research Time |
| --- | --- | --- | --- | --- | --- | --- |
| 1 | 14 | 99 | 60 | N/A | N/A | N/A |
| 2 | 20 | 123 | 100 | 150,000 | 1 | 4 hours |
| 3 | 25 | 152 | 160 | 400,000 | 3 | 1 day |
| 4 | 32 | 184 | 220 | 1,600,000 | 5 | 4 days |
| 5 | 41 | 221 | 350 | 8,100,000 | 8 | 17 days |