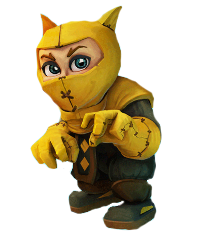 A cunning thief. Moves fast, steals resources even faster.
---
Thief is a low HP troop which has quick movement speed and deals large damage(2.5x) to Resource Buildings.
Offensive Strategy
Edit
Thieves are troops which are used in various strategies. Thief can be used as a singular group of 50 or so and used to raid players who have been inactive so they are able to collect resources from their untended to collectors. Otherwise, the strategy of Warriors or Bears and then Archers as support is a good method to weaken the base then introducing Thieves to collect left over or remaining resources similar to scavengers. The strategy of introducing multiple Thieves is probably the least effective of strategies.
Specific Information
Edit
| Preferred Target | Attack Type | Housing Space | Training Time | Movement Type | Movement Speed | Barracks Level Required |
| --- | --- | --- | --- | --- | --- | --- |
| Resources (2.5x) | Ground | 1 | 28 seconds | Ground | 10 | 3 |
| Level | Damage | Hitpoints | Training Cost | Research Cost | Armory Level Required | Research Time |
| --- | --- | --- | --- | --- | --- | --- |
| 1 | 24 | 50 | 60 | N/A | N/A | N/A |
| 2 | 30 | 62 | 120 | 120,000 | 1 | 16 hours |
| 3 | 42 | 77 | 200 | 260,000 | 3 | 1 day |
| 4 | 55 | 93 | 300 | 580,000 | 4 | 2 days |
| 5 | 72 | 113 | 400 | 3,200,000 | 7 | 7 days |