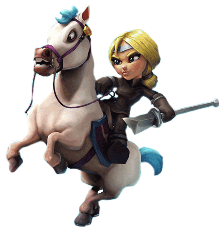 "The most powerful melee warrior!"
---
Level 1
Knight is the largest and highest attacking melee troop that you can get. As of 01/30/2014 hit points and damage have decreased dramatically. Damage has gone down at least 200 points alone. This is no longer the tank it once was. I am placing the new hp and damage for level 2 in the level 3 slot so you can see the difference.
Offensive Strategy
Edit
'Knight is used as a tank, both taking and dealing damage to its target, causing destruction. Knights are an effective replacement for Bears as they draw a large amount of the Defensive Buildings's attention and would also make a way for your Archers, Warriors and Thieves to gain access and beat the base.
Specific Information
Edit
| Preferred Target | Attack Type | Housing Space | Training Time | Movement Type | Movement Speed | Barracks Level Required |
| --- | --- | --- | --- | --- | --- | --- |
| All | Ground | 15 | 15m 00s | Ground | 8 | 9 |
| Level | Damage | Hitpoints | Training Cost | Research Cost | Armory Level Required | Research Time |
| --- | --- | --- | --- | --- | --- | --- |
| 1 | 239 | 2,893 | 12,000 | N/A | N/A | N/A |
| 2 | 281 | 3,442 | 18,000 | 12,100,000 | 8 | 16 days |