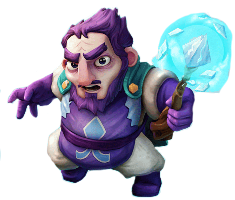 "Hurls bolts of ice at defenses and troops, slowing their attacks."
---
Level 1
Ice Wizard helps slow down high-level Defensive Buildings's attacking, giving the other troops a chance to attack.
Offensive Strategy
Edit
Ice Wizard is best used with a group of high-level troops when attacking high-level Defensive Buildings. This troop is also effective in stopping Defensive Buildings which are further away from the troops from destroying them.
Specific Information
Edit
| Preferred Target | Attack Type | Housing Space | Training Time | Movement Type | Movement Speed | Barracks Level Required |
| --- | --- | --- | --- | --- | --- | --- |
| Defenses | Ground & Air | 5 | 5m 00s | Ground | 4 | 8 |
| Level | Damage | Hitpoints | Training Cost | Research Cost | Armory Level Required | Research Time |
| --- | --- | --- | --- | --- | --- | --- |
| 1 | 144 | 198 | 6,000 | N/A | N/A | N/A |
| 2 | 216 | 264 | 8,000 | | 5 | |
| 3 | 288 | 352 | 10,000 | 7,100,000 | 6 | 15 days |
| 4 | 418 | 440 | 13,000 | 12,100,000 | 8 | 16 days |