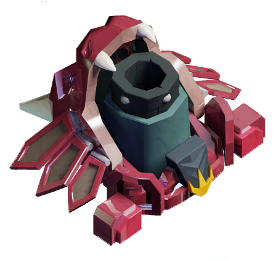 "Long-ranged, slower splash-damage attacks against ground units."
---
| | | | | | | |
| --- | --- | --- | --- | --- | --- | --- |
| | | | | | | |
| Level 4 | | Level 5 | | Level 6 | | Level 7 |
Fireball Catapult is a catapult which launches fireball's at a long-ranged distance and is incapable of performing very short-ranged attacks.
Upgrade Differences
Edit
At level 1, the Fireball Catapult looks like a shaved lions head with a cannon in its mouth.
At level 2, the Fireball Catapult has a mane like shape surrounding half of the catapult as well as a lighter colored top.
At level 3, the Fireball Catapult has white teeth and a longer mane, also the base of the cannon is metal and the top of the lions mouth is shaped more circular in the form of the nose.
At level 4, the Fireball Catapult gains a metal lower jaw and metal mouth as well as its mane.
At level 5, the Fireball Catapult is now completely metal and its mouth turns into black metal and has a circular metal studs at ninety-degree angle surrounding the mouth.
Defensive Strategy
Edit
Fireball Catapult is a strong defense extremely effective against Tier 1 troops as it deals huge damage in a splash form. The best position for this defense is central in your base but as you begin to introduce, more of these other formation should be introduced. See Base Layouts when multiple of these are available to you.
Specific Information
Edit
| | | | | | | | | | | | |
| --- | --- | --- | --- | --- | --- | --- | --- | --- | --- | --- | --- |
| Royal Hall Level | 1 | 2 | 3 | 4 | 5 | 6 | 7 | 8 | 9 | 10 | 11 |
| Number Available | N/A | N/A | 1 | 1 | 1 | 2 | 2 | 3 | 3 | 3 | |
| Level | Damage | Damage Increased | Hitpoints | Cost | Build Time | Royal Hall Level Required |
| --- | --- | --- | --- | --- | --- | --- |
| 1 | 62 | 0 | 800 | 20,000 | 6 hours | 3 |
| 2 | 66 | +4 | 880 | 90,000 | 12 hours | 4 |
| 3 | 77 | +11 | 960 | 300,000 | 1 day | 5 |
| 4 | 87 | +10 | 1,040 | 1,000,000 | 2 days | 6 |
| 5 | 99 | +12 | 1,120 | 2,000,000 | 4 days | 7 |
| 6 | 108 | +9 | 1,200 | 4,000,000 | 5 days | 8 |
| 7 | 113 | +5 | 1,280 | 8,000,000 | 7 days | 9 |
| Range | Damage Type | Unit Type Targeted | Size |
| --- | --- | --- | --- |
| 4-11 | Splash | Ground | 2x2 |