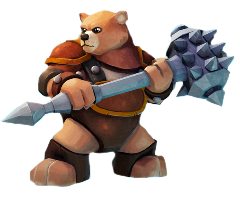 "A giant bear, powered by Spellstone and able to crush all opposition."
---
| | | |
| --- | --- | --- |
| | | |
| Level 1 | | |
Bear is a troop which is not only a great distraction but also loves to destroy Defensive Buildings themselves.
NOTE: As of 01/30/2014 damage and hit points have gone down considerably. Damage for level 5 went from 128 to 93 and hit points went from 1,605 to 1,252. I only have info for level 5 so am updating table accordingly and have added a pic of the lvl 5 Bear stats beneath the table.(cbmayes)
Offensive Strategy
Edit
Bears are effective in a few ways a more effective way is to use Bears to distract Defensive Buildings while Archers are introduced as support .Archers will destroy the protecting Walls quickly giving your Bears access to the Kingdom. This allows them to gain access to the Defensive Buildings, their preferred target .This makes the Archers safe and allows them to slowly wipe out the Kingdom. Also the use of Bears to eliminate Fireball Catapult is a very effective and helpful way to protect smaller troops like Archers as they will eliminate Warriors, Archers and Thieves easily.
Specific Information
Edit
| Preferred Target | Attack Type | Housing Space | Training Time | Movement Type | Movement Speed | Barracks Level Required |
| --- | --- | --- | --- | --- | --- | --- |
| Defenses | Ground | 5 | 1m 00s | Ground | 5 | 3 |
| Level | Damage | Hitpoints | Training Cost | Research Cost | Armory Level Required | Research Time |
| --- | --- | --- | --- | --- | --- | --- |
| 1 | 44 | 660 | 1,000 | N/A | N/A | N/A |
| 2 | 56 | 825 | 2,000 | 300,000 | 2 | 1 day |
| 3 | 70 | 966 | 3,000 | 1,200,000 | 4 | 3 days |
| 4 | 78 | 1,061 | 4,000 | 3,200,000 | 5 | 7 days |
| 5 | 93 | 1,252 | 5,000 | 6,300,000 | 7 | 14 days |