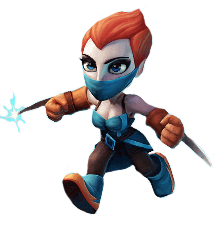 "The Assassin will swiftly scale walls to destroy Royal Halls."
---
Level 1
Assassin is a strategic unit used to gain crowns easier and faster during an attack.
Priority target is Royal Hall and Alliance units.
2x damege to Royal Hall
Offensive Strategy
Edit
Assassins are used as a quick way to destroy the Royal Hall during an attack. Although this troop has generally low HP, it can be used strategically to get that 50% you need to succeed in your attack. These Assassins are relatively fast and determined in destruction of Royal Hall. They are weak unless together in large numbers.
Specific Information
Edit
| Preferred Target | Attack Type | Housing Space | Training Time | Movement Type | Movement Speed | Barracks Level Required |
| --- | --- | --- | --- | --- | --- | --- |
| Royal Hall (2x) | Ground | 2 | 2m 00s | Ground | 10 | 5 |
| Level | Damage | Hitpoints | Training Cost | Research Cost | Armory Level Required | Research Time |
| --- | --- | --- | --- | --- | --- | --- |
| 1 | 11 | 88 | 1600 | N/A | N/A | N/A |
| 2 | 14 | 106 | 2200 | 300,000 | 3 | 1 day |
| 3 | 19 | 126 | 3400 | 4,800,000 | 6 | 10 days |
| 4 | 24 | 145 | 3200 | 6,300,000 | 7 | 14 days |