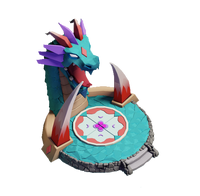 You must first have the Alliance Portal if you want to join or create an Alliance
Alliance, also known as Guild or Clan, is an essential part that makes Kingdom Clash not only an individual but also a team-play game.
By having the Alliance Portal, you can create or join an Alliance.
In the Alliance section , if you're not in an Alliance, there will be random Alliances appear for you to join.
Specific Information
Edit
An Alliance can have up to 50 members.
Alliances are eligible to compete with the others in Tournaments.
There will be no cost for creating an Alliance as well as joining and leaving.
Alliance's logos are currently unavailable in Kingdom Clash.
Creating an Alliance
Edit
There is a number of Crowns required to join an Alliance which is set by the Alliance's leader. When creating an Alliance, the number is automatically set at 50.
The minimum number of Crowns required is 0. The maximum number is 5000.
Alliance's name is also required.
Two Alliances can not have the same name.
Alliance's name accepts normal letters, capital letters, numbers and space.
Joining an Alliance
Edit
You can join an Alliance if meet its minimum Crowns requirement.
Once you join an Alliance, your Crowns can then go lower than that requirement and you will still be in your Alliance unless leaving yourself or being kicked by the leader.
There are currently two types of Alliance: Private Alliance and Public Alliance.
Public Alliances are available for everyone whose Crowns meet the requirement. These Alliances automatically accept you.
Private Alliances are different. Besides required Crowns, you need permission from the leader to join Private Alliances.
Leaving an Alliance
Edit
Leaving and re-joining an Alliance can happen for unlimited times.